Live Line Hours and Procedures Update
Valued Customer,
We're still operating as usual, same business hours only our procedures have currently changed given the current circumstances and will continue in this manner until further notice. In our best efforts in continuing to maintain a "safe working distance", please continue to follow the instructions below:
PICK UP – Call the lab in advance, proceed to our building next door where you will find your goods in an area isolated from our employees. Sign the form acknowledging pick up, leave the signed form, take your goods and your test report copies will be with your goods.
DROP OFF – Call the lab in advance with a notice and any special instructions. Proceed to our building next door, make a count of the goods, leave your goods on the shelf &/or on the floor, complete the form that will be in an area isolated from our employees and take the yellow copy for record. The office will notify you when the order is ready and you can then follow the instructions for PICK UP above.
DELIVERIES – Preferred Method – Goods shipped via freight service (e.g. UPS, USPS, FedEx,…) to and from the lab, will be handled as usual.
Upon completion of the Pick Up or Drop Off, please call the office so they are notified.
As long as we are able to ensure a safe working environment for our employees, our office will remain open. These precautions will remain in place until further notice. We appreciate your continued support and thank you in advance for your understanding and cooperation.
Sincerely,
Ruben Larez
Cat 2 FR Masks
*Limited quantities*
Limited production out of the Big Bill® New Hampshire plant. FR face masks made with double layer Ultra Soft 5 oz. fabric.
Note: These Category 2 face masks are Non-Medical Grade / Non N95.
Call our office for pricing + availability.
Can We Spray Our Arc Flash PPE With Lysol?
Arc Flash PPE Care + Sanitizer?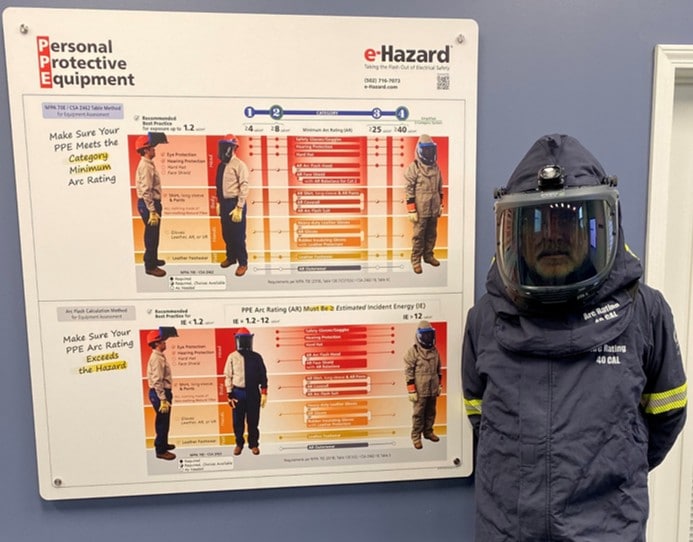 The CDC has commented that "current evidence suggests that novel coronavirus may remain viable for hours to days on surfaces made from a variety of materials. Cleaning of visibly dirty surfaces followed by disinfection is a best practice measure for prevention of COVID-19 and other viral respiratory illnesses in households and community settings."
VR Glove care
: Soap and water works as long as you rinse thoroughly. See manufacturer's recommendations for types of soap or detergent. Isopropyl alcohol wipes are acceptable if they just contain the alcohol. Always use something that dries quickly. 
DO NOT USE
 hand sanitizers since they contain emollients to keep hands from drying out and these can be flammable or damage the rubber. You want it to evaporate quickly. Use a cloth with the alcohol, don't soak in any solvent.